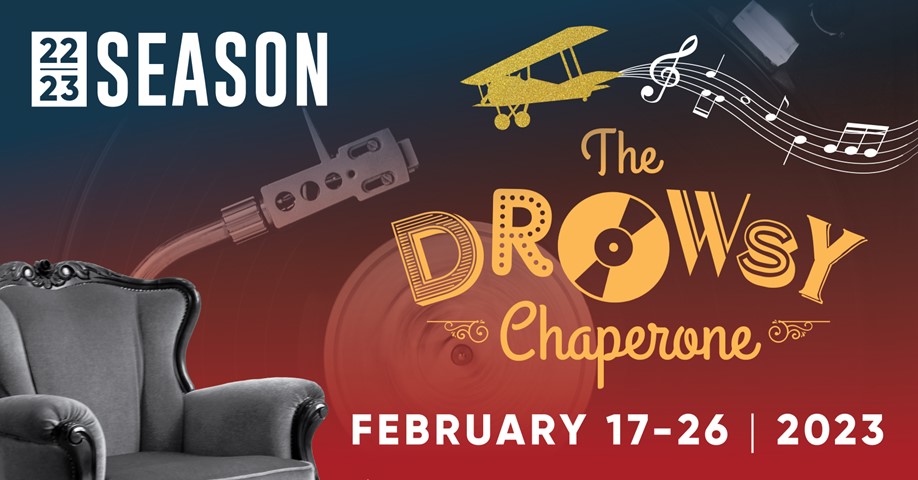 Keystone Theatrics at The Playhouse At Allenberry Announces Auditions for The Drowsy Chaperone!

Directed by Tom Hostetter
Vocal and Music Direction by Gregg Mauroni
Choreography by Steven Flom
Show Description
Winner of five Tony Awards, including Best Book and Best Original Score, The Drowsy Chaperone is a loving send-up of the Jazz Age musical, featuring one show-stopping song and dance number after another. With the houselights down, a man in a chair appears on stage and puts on his favorite record: the cast recording of a fictitious 1928 musical. The recording comes to life in his living room and The Drowsy Chaperone begins as the man in the chair looks on and provides witty commentary. Mix in two lovers on the eve of their wedding, a bumbling best man, a desperate theatre producer, a not-so-bright hostess, two gangsters posing as pastry chefs, a misguided Don Juan and an intoxicated chaperone, and you have the ingredients for an evening of madcap delight!
Audition Requirements
Audition Dates (please attend 1 and arrive at the posted start time):
Monday, December 5 at 6:00 PM
Wednesday, December 7 at 6:00 PM
Please be prepared to:
– Sing 16-20 bars of a musical theatre song of your choice.
You must sing with our provided accompaniment or with a device you provide.  No a cappella auditions will be allowed.
– You may be asked to sing scales by our accompanist.
– Complete a dance audition, taught by the show choreographer (dress appropriately)
– Read provided selections from the script
– Be prepared to fill out a conflict sheet at auditions (be as specific as possible about conflicts throughout the rehearsal period)
*A virtual audition option is available for those who may be out of the area at the time of auditions. Additional audition times may be scheduled ONLY if you are unable to attend the scheduled auditions. Please contact Keystone Theatrics Staff at casting@keystonetheatrics.com, to schedule an audition at least two weeks in advance if this is the case.*
Rehearsals will begin around December 10, 2022.  Tech week will be from Saturday, February 11 through Thursday, February 16, 2023. No absences will be accepted during tech week or performances.
Performances
February 17, 18, 24, 25, 2023 at 7:30 PM
February 19, 25, 26, 2023 at 2:00 PM​
Please make sure you can fully commit to the rehearsal period and performance schedule before auditioning.  You must be willing to make the show a priority.
Performers Needed
Performers ages 18 and up are welcome to audition. Experienced or first-time performers who enjoy singing, dancing, and acting are invited to audition. Unless strictly and specifically mandated from the playwright, all roles are open and available to anyone regardless of race, ethnicity, or body type.
Roles Available (ages listed are suggested playing ages only)
Man In Chair
Musical theatre aficionado who mourns the end of the Golden Era. He narrates the show as he listens to the record on vinyl.
Playing Age: 30 to 50
Mrs. Tottendale
The air-headed, proper, and bossy host of the wedding.
Playing Age: 50 to 60
Vocal range top: Db5
Vocal range bottom: G3
Underling
Mrs. Tottendale's savvy butler who is thrifty and stiff yet has an understated sense of humor.
Playing Age: 35 to 50
Vocal range top: G4
Vocal range bottom: Ab2
Robert Martin
The dashing, ever-cheerful groom; played by matinee-idol Percy Hyman. Tap skills encouraged.
Playing Age: 25 to 35
Vocal range top: Ab4
Vocal range bottom: C3
George
Robert's anxious, dim-witted best man who has Robert's best-interest always at heart. Tap skills encouraged.
Playing Age: 35 to 50
Vocal range top: Bb4
Vocal range bottom: F3
Feldzieg
Broadway producer who is desperate for his star to return to his show; played by Jack Adler.
Playing Age: 25 to 35
Vocal range top: Db4
Vocal range bottom: Db3
Kitty
Feldzieg's dim-witted companion who has hopes of being a star; played by Sadie Adler.
Playing Age: 25 to 30
Vocal range top: F5
Vocal range bottom: Bb3
Gangsters
Posing as pastry chefs, this duo is intending to collect from Feldzieg; played by the vaudeville duo Tall Brothers.
Playing Age: 35 to 45
Vocal range top: Gb4
Vocal range bottom: Db3
Aldolpho
European self-proclaimed "ladies man"; played by former silent movie star Roman Bartelli.
Playing Age: 35 to 45
Vocal range top: G4
Vocal range bottom: A#2
Janet Van De Graaf
The famous bride. Glamorous and talented star of Feldzieg's Follies; played by rising star Jane Roberts. Dance skills required.
Playing Age: 25 to 35
Vocal range top: -1
Vocal range bottom: G3
The Drowsy Chaperone
Janet's alcoholic confidante and friend; played by well-established stage actress Beatrice Stockwell
Playing Age: 45 to 55
Vocal range top: D5
Vocal range bottom: F3
Trix
The brave and brash female aviator who, by chance, is recruited to perform the wedding.
Playing Age: 30 to 40
Vocal range top: Eb5
Vocal range bottom: Ab3
Ensemble