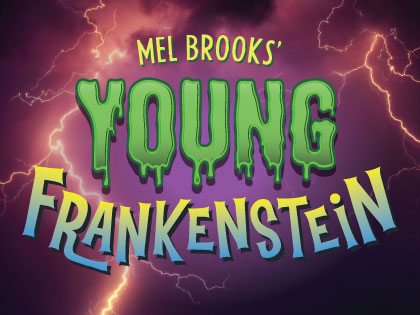 Keystone Theatrics at The Playhouse At Allenberry Announces Auditions for Mel Brooks' Young Frankenstein!

Directed and Choreographed by Steven Flom
Vocal and Music Direction by Gregg Mauroni
Stage Management by Sharon Miller
Show Description
It's Alive! (And it's Hilarious!) From the creators of the record-breaking Broadway sensation The Producers comes the monstrously mad musical, Young Frankenstein! Frederick Frankenstein (pronounced "Fronk-en-steen") reluctantly inherits his infamous family's estate in Transylvania. Urged on by a hunchbacked sidekick, Igor (pronounced "Eye-gore"), and a leggy lab assistant, Inga (pronounced normally), Frederick finds himself fulfilling his grandfather's corpse-raising legacy. This electrifying musical stage adaptation of Mel Brooks' brilliantly funny film will leave you in stitches!
Audition Requirements
Audition Dates (please attend 1 and arrive at the posted start time):
Sunday, July 23, 2023 at 6:30 P.M.
Tuesday, July 25, 2023 at 6:30 P.M.
Please be prepared to:
– Sing 16-20 bars of a musical theatre song of your choice. You must sing with our provided accompaniment or with a device you provide.  No a cappella auditions will be allowed.
– You may be asked to sing scales by our accompanist.
– Complete a dance audition, taught by the show choreographer (dress appropriately)
– Read provided selections from the script
– Be prepared to fill out a conflict sheet at auditions (be as specific as possible about conflicts throughout the rehearsal period)
*A virtual audition option is available for those who may be out of the area at the time of auditions. Additional audition times may be scheduled ONLY if you are unable to attend the scheduled auditions. Please contact Keystone Theatrics Staff at casting@keystonetheatrics.com, to schedule an audition at least two weeks in advance if this is the case.*
Rehearsals will begin in August 2023.  Tech week will be from Saturday, October 7 through Thursday, October 12. No absences will be accepted during tech week or performances.
Performances
October 13, 14, 20, 21, 27, 28, 2023 at 7:30 PM
October 15, 22, 29, 2023 at 2:00 PM
Please make sure you can fully commit to the rehearsal period and performance schedule before auditioning.  You must be willing to make the show a priority.
Performers Needed
Performers high school aged and up are welcome to audition. Experienced or first time performers who enjoy singing, dancing, and acting are invited to audition. Unless strictly and specifically mandated from the playwright, all roles are open and available to anyone regardless of race, ethnicity, or body type.
Roles Available (all ages listed are suggested playing ages and will be adjusted to fit the needs of our casting):
Dr. Frederick Frankenstein
Brilliant brain surgeon, professor and grandson of mad scientist Dr. Victor Von Frankenstein.
Age: 25 to 35
Vocal range top: G4
Vocal range bottom: Bb2
The Monster
The misunderstood creation of Dr. Frankenstein.
Vocal range top: Bb4
Vocal range bottom: Db2
Igor
Frederick's faithful, bright-eyed, eager servant and friend with a hunchback.
Age: 25 to 35
Vocal range top: G4
Vocal range bottom: Bb2
Inga
Frederick's young assistant. Attractive and a resident of Transylvania.
Age: 20 to 30
Vocal range top: A5
Vocal range bottom: G3
Elizabeth Benning
Frederick's boisterous fiancé.
Age: 25 to 35
Vocal range top: F5
Vocal range bottom: F#3
Frau Blücher
Stern housekeeper of the Frankenstein estate and former lover of Victor Frankenstein.
Age: 40 to 60
Vocal range top: C5
Vocal range bottom: E3
Inspector Hans Kemp
The head of police in Transylvania. Driven by justice, with a wooden arm and leg.
Age: 40 to 50
Vocal range top: F4
Vocal range bottom: A2
The Hermit
A lonely, blind town hermit, hoping for a friend.
Age: 30 to 60
Vocal range top: F4
Vocal range bottom: Ab2
Ensemble
Gravediggers, Villagers, Medical Students, Passengers, Mad Scientists