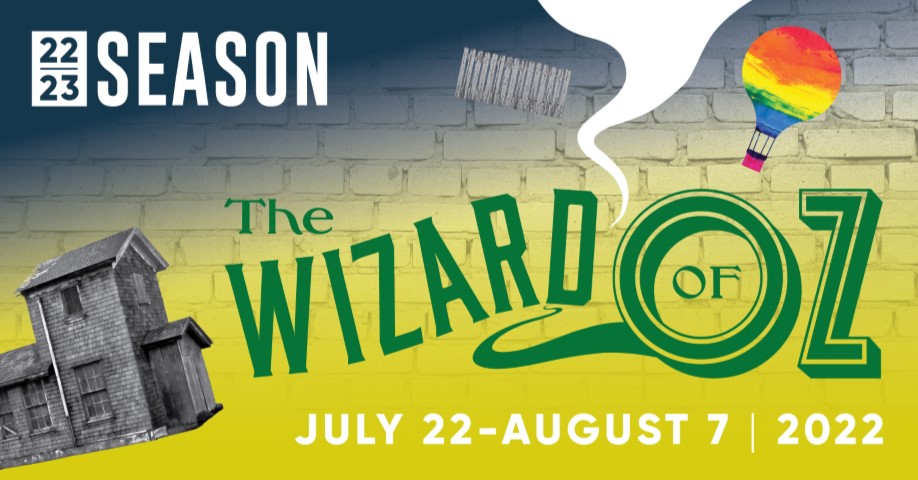 Keystone Theatrics at The Playhouse At Allenberry Announces Auditions for The Wizard of Oz!

Directed by Jeremy Slagle
Vocal Direction by Amanda Nowell
Music Direction by Brandon Bitner
Choreography by Lexi Fazzolari
Show Description
There truly is no place like home as the greatest family musical of all time, the wonderful Wizard of Oz, twists its way to the Playhouse at Allenberry! The entire family will be captivated as they travel down the Yellow Brick Road and beyond with Dorothy, Toto, and their friends the Cowardly Lion, Tin Man, and Scarecrow. A spectacular celebration of the iconic 1939 MGM film, The Wizard of Oz will blow you away from the moment the tornado touches down and transports you to a dazzling Oz, complete with munchkins and flying monkeys. Don't miss the chance to travel Over the Rainbow and experience this national treasure on stage!
Audition Requirements
Audition Dates (please attend 1 and arrive at the posted start time):
Sunday, April 24, 2022 at 6:00 P.M.
Monday, April 25, 2022 at 6:00 P.M.
Callbacks (if needed)
Tuesday, April 26, 2022 at 6:00 P.M.
Please be prepared to:
– Sing 16-20 bars of a classic musical theatre song of your choice. You must sing with our provided accompaniment or with a device you provide.  No a cappella auditions will be allowed. Even if you are interested in a traditionally non-singing role, we would prefer you to still audition with a song.
– You may be asked to sing scales by our accompanist.
– Complete a dance audition, taught by the show choreographer (dress appropriately)
– Read provided selections from the script
– Be prepared to fill out a conflict sheet at auditions (be as specific as possible about conflicts throughout the rehearsal period)
*A virtual audition option is available for those who may be out of the area at the time of auditions. Additional audition times may be scheduled ONLY if you are unable to attend the scheduled auditions. Please contact Keystone Theatrics Staff at casting@keystonetheatrics.com, to schedule an audition at least two weeks in advance if this is the case.*
Rehearsals will begin in May 2022.  Tech week will be from Saturday, July 16 through Thursday, July 21. No absences will be accepted during tech week or performances.
Performances
July 22, 23, 29, 30, August 5, 6, 2022 at 7:30 PM
July 23, 24, 30, 31, August 6, 7, 2022 at 2:00 PM
Please make sure you can fully commit to the rehearsal period and performance schedule before auditioning.  You must be willing to make the show a priority.
Performers Needed
Performers high school aged and up are welcome to audition. Experienced or first time performers who enjoy singing, dancing, and acting are invited to audition. Our take on this classic will be a little different, so we are looking for fun and energetic performers who are imaginative and dedicated to taking the audience on this magical journey. Unless strictly and specifically mandated from the playwright, all roles are open and available to anyone regardless of race, ethnicity, or body type.
Roles Available
Dorothy Gale – The heroine of our Fairytale, young, full of energy, strength and kindness.
Professor Marvel/The Wizard of Oz – Professor Marvel portrays himself as one who knows many things and has great wisdom in all matters with the help of his crystal ball. Must be a strong actor. Wizard of Oz is a mysterious character that rules over Oz.
Hunk/The Scarecrow – Hunk is the thinker of the bunch who speaks his mind. The Scarecrow is made of straw and walks with constant unrestricted movements. He has no brain but often says more intelligent and insightful things than any other person in the musical.
Zeke/The Cowardly Lion – Zeke is the farmhand Dorothy turns to for encouragement and courage. He is sweet and comforting but easily spooked. The Cowardly Lion wishes to go home throughout the adventures in Oz but his friends never let him. In the end he finds the courage he thought he was lacking.
Hickory/The Tin Man – Hickory is emotionally charged farmhand who desires great things. He is quick witted and lovable. The Tin Man is the most loving and emotional character in the musical. He wants nothing more than to have his heart back. He is strong, protective, and encouraging.
Aunt Em/Glinda the Good Witch – Emily Gale is the Aunt of Dorothy who leads a busy and tiring life on her Kansas farm. Glinda the Good Witch of the North watches over Dorothy and her friends. She is caring and nurturing and is a great aid to anyone in need. She must portray dignity and grace.
Miss Gulch/The Wicked Witch of the West – Miss Gulch is uptight neighbor who attempts to take Dorothy's beloved dog Toto away from her. She is harsh, mean and strict spirit but also has a good delivery of sarcastic banter. The Wicked Witch of the West is the villain of our story. She follows our four friends throughout the land of OZ striking fear into them any way she can. While she is a bully with a fantastically creepy cackle she also has a playful fun side.
Uncle Henry/Emerald City Guard – Dorothy's pleasant uncle who helps oversee their farm, and is caring and protective of his family. The Guard is the first face our friends meet when arriving to the gates of the Emerald City. He is comic and has a strong presence.
Ensemble – We are looking to cast an ensemble between 8 and 12 performers. The ensemble will be VERY busy in roles such as Munchkins, talking trees, Winkies, Flying Monkeys, Ozians, Emerald City citizens, Poppies, Jitterbug Dancers, and more.